LG Chem Vice Chairman Shin Hak-cheol "Dominating the Battery Market Depends on 'Materials, Parts and Equipment'"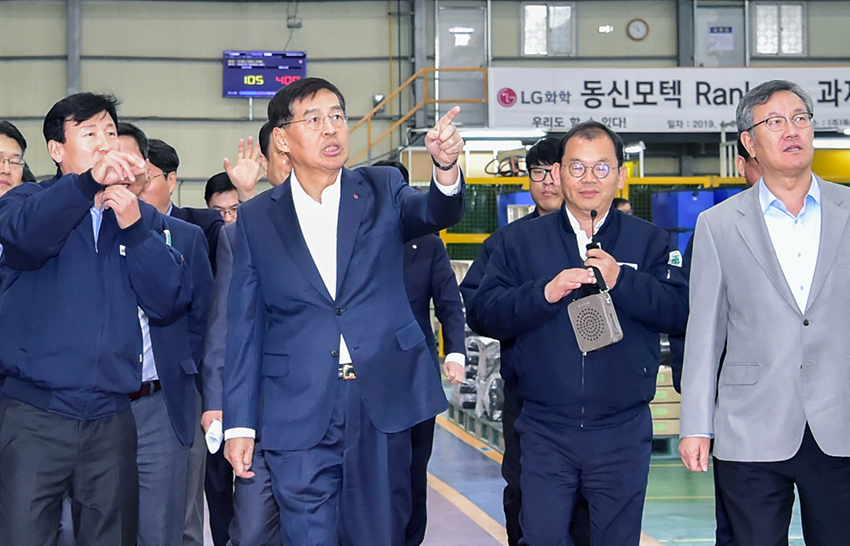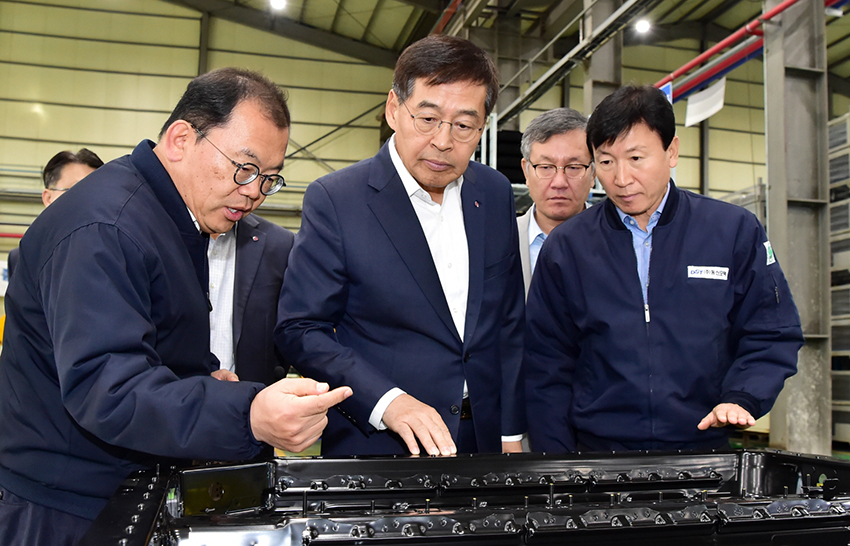 ■ Emphasized win-win cooperation in materials, parts and equipment with battery partners
-"EV battery business a future growth engine with infinite potential, cooperation with 'materials, parts and equipment' essential to lead the global battery market"
-"Will positively support 'materials, parts and equipment' to contribute in strengthening national competitiveness"
■ Visited 2 partners with outstanding competitiveness in the battery parts and equipment sector
- Dongshin Motech: Developed upper case for all-in-one type EV battery pack
- Shingsung FA: Production of automatic equipment combining EV battery module and pack assembly line
■ Made 43.2 billion KRW fund to support 'materials, parts and equipment'
- Support investment costs for developing new products and localization for partners
- Provide consulting and initial costs when entering foreign markets

LG Chem Vice Chairman Shin Hak-cheol emphasized win-win cooperation with 'materials, parts and equipment'
Regarding this, LG Chem Vice Chairman Shin Hak-cheol visited two major domestic parts and equipment partners in the battery sector on the 15th and announced that it would search for various cooperation plans to lead the global battery market.
*2 partners visited: Dongshin Motech (Haman, Gyeongnam), Shinsung FA (Daegu)
Here, Vice Chairman Shin said, "The EV battery business has infinite potential being called the 'second semiconductor' and is a future growth engine," adding, "Win-win cooperation with 'materials, parts and equipment' is essential to dominate the global battery market."
Accordingly, Vice Chairman Shin emphasized, "We will provide positive support to help 'materials, parts and equipment' procure world-class competitiveness and support the strengthening of national competitiveness."
In fact, LG Chem's battery business sales is expected to triple in five years by 2024 to around 30 trillion KRW, and therefore, the importance of materials that determine the performance and capacity of batteries and that of parts and equipment companies is continuing to grow with the increased production of batteries.
Thanks to such growth trends, the LG Chem battery business is also expected to increase purchases in the 'materials, parts and equipment' sector by about 4 trillion KRW annually.
Visited 2 partners with outstanding competitiveness in the battery parts and equipment sector to encourage them
On this day, Vice Chairman Shin visited Dongshin Motech, a battery parts company located in Haman, Gyeongnam, and Shinsung FA, a battery equipment maker located in Daegu to listen to the mutual growth activities and difficulties felt by employees of the partner companies, while discussing plans to strengthen win-win cooperation in the future.
Dongshin Motech is a parts company with outstanding competitiveness in the 'battery pack housing', which is a case that protects EV packs.
Dongshin Motech succeeded in producing an all-in-one upper battery pack case through technological cooperation with LG Chem in 2015. This has enhanced usability of the internal space of battery packs making it easy to lay out battery modules and electronic parts.
LG Chem explained, "Through the specialized and high-tech 'press molding' technologies of Dongshin Motech, we satisfied the end-car companies requiring efficient utilization of battery pack spaces within the vehicle and contributed significantly to receive outstanding evaluations for LG Chem batteries in overseas markets."
Dongshin Motech CEO Lim Choon-woo said, "Supplying the products to the LG Chem Nanjing plant in China and the Poland plant in Europe has contributed greatly for diversifying clients and increasing sales."
Shinsung FA is an equipment company that produces EV batter assembly lines and it succeeded in integrating the assembly line that was divided into the battery module and packs into a single line through technological cooperation with LG Chem.
By making the battery module and battery pack in a single line, spatial efficiency and productivity were enhanced and safety was also increased as the module no longer needed to be moved from the battery module assembly line to the pack assembly line.
Shinsung FA CEO Jang Do-ho said, "We were recognized for our technical capacities in equipment manufacturing allowing us to supply our battery assembly line to the LG Chem Poland plant." He added, "We plan to continue to expand supply with the expansion of the Poland plant."
Established innovative growth fund early this year to support 'materials, parts and equipment' partners
In addition, LG Chem established the 'innovative growth fund' worth 43.2 billion KRW to help support 'materials, parts and equipment' cooperation companies in April of this year.
The innovative growth fund aims at continuously helping materials, parts and equipment companies in localization and new product development, and selected companies can receive the necessary funds interest-free through banks.
Furthermore, LG Chem is also providing consulting and initial funding related to entered regions and administrative works to support partners to enter foreign markets.
Meanwhile, LG Chem has organized the 'LG Chem mutual growth steering committee' since 2010 to pursue mid- to long-term joint growth strategies.
Such efforts have led to LG Chem receiving the highest ratings for four years in the 'joint growth index evaluation' that measures and announces the win-win cooperation levels of SMEs and conglomerates per industry every June by the joint growth committee up until last year.