LG Chem Expands NASH(Non-alcoholic steatohepatitis) Treatment New Drug Pipeline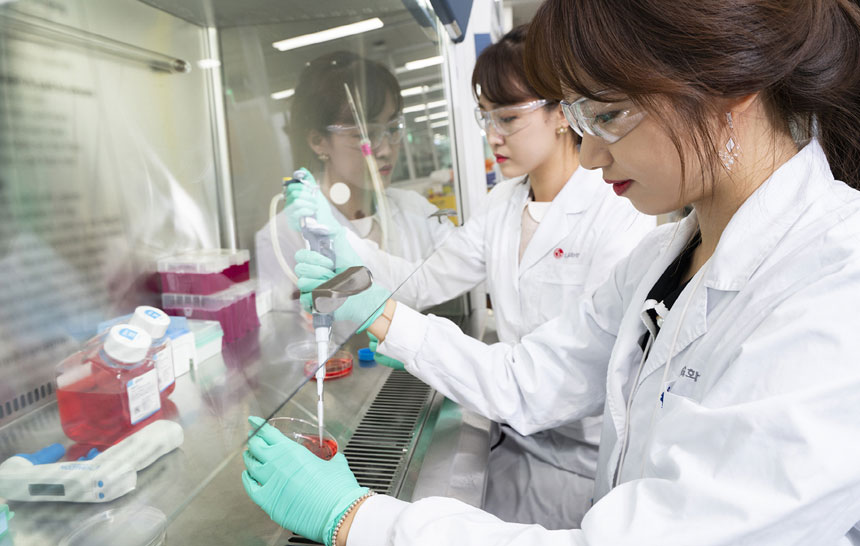 LG Chem Expands NASH(Non-alcoholic steatohepatitis) Treatment New Drug Pipeline
■ Procured global sales rights for new pipeline of China's 'TransThera Biosciences Co.Ltd.'
- Currently, in the ending stage of pre-clinical and plans to begin phase 1 clinical trials in the US in Q1 of next year
■ Untapped market without treatment due to the high difficulty in developing new drugs,
Over 60 million patients in seven countries including the US and Europe

■ Plans to accelerate new drug development by procuring NASH pipelines with various action mechanisms

LG Chem will accelerate development of new NASH(non-alcoholic steatohepatitis) drugs.
* NASH: Chronic disease in which fat accumulates and inflammations occur in the liver due to metabolism issues regardless of alcohol consumption, and when liver function damage continues, it can lead to liver failure or liver cancer.
Regarding this, LG Chem announced on the 18th that it had signed a contract for implementing the pre-clinical stage new NASH drug pipeline (candidate substance name: TT-01025) of China's 'TransThera Biosciences Co.Ltd.'.
'TransThera Biosciences Co.Ltd' is a bio-company based in Nanjing, China that focused on the development of new drugs for cancer, cardiovascular system, and inflammatory diseases. It is currently developing NASH treatments that target VAP-1 proteins that have been reported to be highly related to inflammation of the liver.
Upon checking the global NASH development trends, LG Chem judged that the new drug pipeline of TransThera Biosciences has global competitiveness considering effectiveness, safety, and clinical entry speed, etc. LG Chem plans to complete pre-clinical studies within the year and begin clinical phase 1 studies in the US starting in Q1 of next year.

With this contract, LG Chem will procure global monopolistic development and sales right in the US and Europe, excluding China and Japan, and it will pay up to 350 million USD (app. 417 billion KRW) to TransThera Biosciences for the deposit and for each milestone according to development and commercialization achievements.
The introduction of LG Chem's new NASH drug pipeline is the second following the contract with Sweden's Spring Bioscience in March of last year. Research is currently being conducted in the stage for finding candidate substances.
The reason why LG Chem is focusing on developing R&D capacities for NASH diseases is because it is an untapped market that still does not have treatment due to the high new drug development difficulty level. It has been reported that there are currently over 60 million patients in seven countries such as the US, five countries in Europe, and Japan. (Source; GlobalData's Epidemiology Analysis)
LG Chem plans to pursue the development of new drugs that will have mutually supplementary treatment effects by procuring multiple new NASH pipelines with different action mechanisms including the new drug pipeline in the pre-clinical stage proprietarily developed by LG Chem.
Life Sciences President, Jeewoong Son said , "For NASH disease, procuring new drug pipelines with various action mechanisms is crucial considering the compound reasons for onset such as accumulation of fat, inflammatory reaction, fibrosis, etc.," and added, "By implementing this pipeline, we will be able to accelerate development of new drugs for treating NASH."
TransThera CEO Frank Wu said, "The Nash treatment drug 'TT-01025' is featured by high selective effects on target proteins, and it is expected to show outstanding results in terms of safety as well," while adding, "We will provide an innovative drug for treating patients with NASH disease to the entire world together with LG Chem."