LG Chem-GS Caltex Signs Joint Development Agreement for Eco-friendly Materials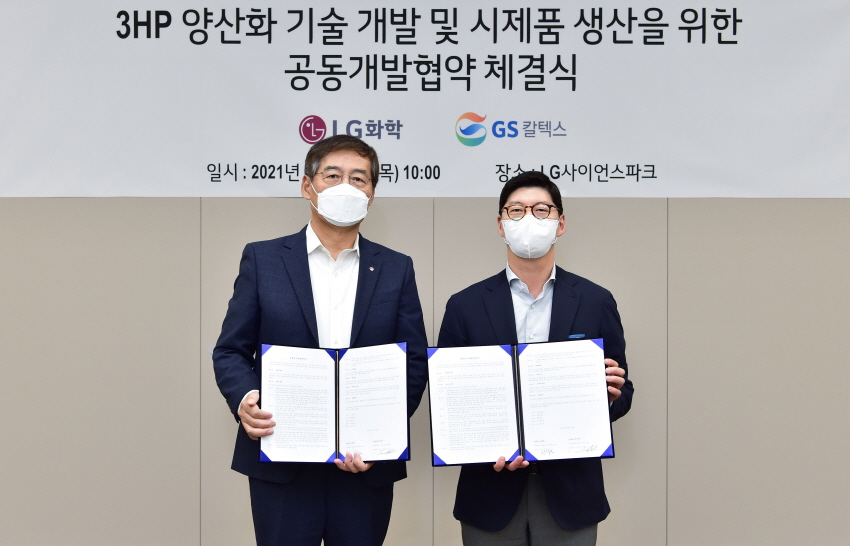 LG Chem-GS Caltex Signs Joint Development Agreement for Eco-friendly Materials
■ On 18th, signed Joint Development Agreement (JDA) for developing mass production technologies for 3HP, which is a biodegradable material, and for producing prototypes
■ Expecting synergy between the two companies in sustainability sectors such as fermented production technologies and process equipment technologies, etc.
- Actively discussing collaboration and realization plans throughout the white bio sector in the future
■ CEO Cheol Shin,
"The fact that the two companies that are leaders in the oil refinery and chemical industry are cooperating to develop and commercialize sustainable new materials is quite significant"
"By focusing on R&D in the eco-friendly materials sector, we will lead future technologies that can protect the environment and society"
LG Chem and GS Caltex will team up to jointly develop mass production technologies of eco-friendly materials for a circulating economy and carbon neutrality.
On the 18th, LG Chem announced the signing of a Joint Development Agreement (JDA) on the development of mass production technology for 3HP (hydroxypropionic acid), which is a biodegradable plastic material, and production of prototypes with GS Caltex at the LG Science Park in Magok with the attendance of GS Caltex President Sae Hong Hur, LG Chem Chief Executive Office Hak Cheol Shin, and key R&D personnel.
3HP is an eco-friendly material produced through a microorganism fermenting process of bio-materials such as glucose and unrefined glycerol (derived from vegetable oil).
It is drawing attention as a next-generation platform chemical that can be used as raw materials for a variety of materials including not only biodegradable plastic, but also super absorbent polymers (SAP) used in diapers, paints, adhesives and glues, coating materials, carbon fiber, etc.
LG Chem possesses the world's best proprietary 3HP fermenting technologies, and using this, the Company successfully developed PLH (Poly Lactate 3-Hydroxypropionate), which is a new biodegradable material that can configure mechanical properties equivalent to synthetic resins for the first time in the world back in October of last year.
This agreement was made possible as the two companies shared a common interest in terms of the goal for 3HP mass production and commercialization using the synergy effects of LG Chem's fermented production technology and GS Caltex's process facility technologies.
The two companies plan to accelerate entry into the biodegradable materials and various bio plastic markets through the production of a 3HP prototype from 2023.
In addition, they will also actively discuss plans for collaboration through the white bio sector in the future, as well as on plans for realizing a sustainable bio ecosystem.
Collaboration of the two companies is also expected to contribute to carbon neutrality, resource circulation, and for solving the microplastic issue.
According to market survey companies, etc., the global bio plastic market is expected to grow from 12 trillion KRW in 2021 to 34 trillion KRW by 2026 at an annual average growth rate of 23%.
Regarding this agreement, GS Caltex President Sae Hong Hur stated, "As microplastics have become a serious environmental issue, products that quickly decompose in the natural ecosystem will be able to create sustainable value in that it will eco-friendly consumption."
He added, "Through our cooperation in developing eco-friendly materials, the two companies will not only strength ESG capacities such as contributing to a circulating economy and reducing carbons, but also create economic value with high value-added products."
LG Chem Chief Executive Officer Hak Cheol Shin commented, "In this current period where carbon neutrality has become a global mega-trend, the fact that a company leading the oil refining industry and another leading the chemical industry is cooperating for the development and commercialization of sustainable new materials has great meaning."
He further elaborated saying, "By focusing on R&D in the eco-friendly materials sector, we will lead future technologies that can protect the environment and society."
LG Chem plans to accelerate preparations for mass production of the new biodegradable material, PLH, which was developed successfully for the first time in the world last year using its proprietary 3HP technologies.
PLH that was developed by LG Chem is a biodegradable material with 100% bio contents using glucose and unrefined glycerol, and it is a new material that can manifest mechanical properties and transparency equivalent to that of synthetic resins as a single material.
The goal is to produce a prototype by 2023, and plans are in place to review additional investments for mass production through evaluations by client companies in the future.
Meanwhile, LG Chem became the first chemicals company in Korea to announce a sustainability strategy focusing on '2050 carbon neutral growth' last year, and the Company is actively pursuing climate change response and resource circulation activities, etc. with the goal of providing innovative and distinguished sustainable solutions.