Brand Introduction
LG Chem's precious promise for a sustainable environment and future
A healthier future made together by Earth and LG
LG Chem, LETZero
LETZero means helping zero environmental footprints and reaching net-zero carbon emissions by combining 'Let + Zero'. LETZero is a 'global eco-friendly material' brand of LG Chem, while also representing innovative 'Sustainability Solutions.'
Eco-friendly materials brand LETZero
2022 LETZero Product Book
LG Chem has published a product book containing LG Chem's Eco-Friendly Materials
Brand LETZero products.
LETZero is a master brand that integrates eco-friendly materials such as PCR made of
reprocessed waste plastics, bio materials made of Bio-based renewable materials, and
biodegradable materials made of glucose and waste glycerol extracted from corns.
We introduce LG Chem's eco-friendly product line for sustainable environment and
future through Product Book.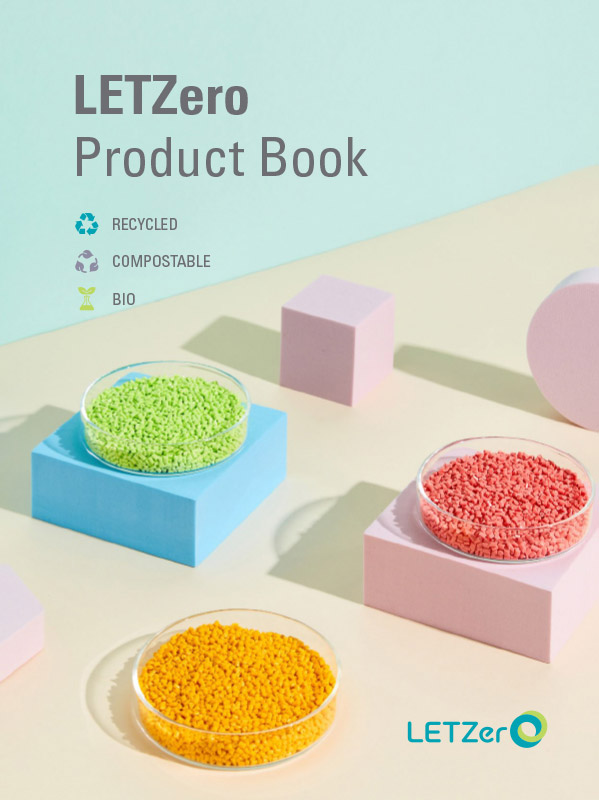 Product Group
Recycled Products
LG Chem has developed Post-Consumer Recycled (PCR) materials by collecting, pulverizing, and sorting discarded plastics used by end consumers with LG Chem's proprietary technology. We also produce circular materials by chemically recycling plastic film and composite plastic that are discarded. LG Chem has successfully developed PCR materials that are equivalent to virgin plastic in quality, as well as white PCR plastic that requires a sophisticated level of technology. Since recycled circular materials have the quality equivalent to naphtha and do not alter the physical properties of the final product, they can be applied to all LG Chem products. ISCC PLUS certification for the materials is also available upon client request. Utilizing plastic waste processes them in a sustainable way and reduces our carbon emissions by consuming less energy during production.
Manufacturing Process
Mechanical recycling
After collection, plastic wastes are classified by type. Once the impurities are removed by cleaning and sorting, the plastic waste is recycled through the regeneration process. LG Chem combines high-quality recycled materials and other materials to produce virgin-quality recycled plastics.
Chemical recycling
Chemical recycling produces pyrolysis oil, which has the same quality as naphtha, from discarded plastic film and composite waste plastics that are incinerated or buried in landfills. The oil is used to make circular products by replacing fossil fuel-based raw materials in the existing processes.
Biodegradable Products
LG Chem is leading the development of plant-based bio materials that decompose in soil within months. In addition to reducing carbon emissions as required in the global market, we are developing bio-based and biodegradable products that have versatile applications, such as plastic bags and disposable cups, in response to tougher regulations on disposable products and increasing demand for biodegradable materials.
Manufacturing Process
PLA
PLA is produced from lactic acid, obtained by fermenting glucose extracted from corn starch or sugarcane. After converting lactic acid to lactide, its cyclic form, PLA is manufactured through a polymerization process. Depending on the mixture of raw materials and the polymerization process, PLA can be produced in various grades. It can diverse applications through compounding with other materials that can compensate for its weaknesses in physical properties.
PLH
PLH is a biodegradable material independently developed by LG Chem, produced by 100% bio-based materials. 3-HP (3-Hydroxypropionic acid), one of the monomers used to polymerize PLH, is derived from microbial fermentation using biomass. Because it is difficult to achieve high-purity and high-yield production of 3-HP and it is extremely complex to refine, the material had not been previously mass-produced. But after long-term research, LG Chem successfully developed the production and refining technology for 3-HP. This enabled the development of new biodegradable material with improved flexibility that still maintains transparency.
PBAT
PBAT is made from three organic compounds: BDO (butanediol), AdA (adipic acid), and TPA (terephthalic acid). To these, polylactic acid (PLA), which is a biodegradable plastic, starch, and/or cellulose are compounded to regulate their physical properties. In addition to the biodegradation effect, the carbon emissions produced in the product manufacturing process can be minimized by using bio-based materials in the raw material stage.
Bio-balanced Products
LG Chem produces a variety of products using renewable plant-based materials. We apply the biomass balance technology to incorporate plant-based materials, which uses less fossil fuels and contributes to the reduction of carbon emissions. LG Chem became the first to acquire the ISCC PLUS certification in Korea for the entire process, from purchase to production and sales performance of 41 eco-friendly products, including SAP (super absorbent polymer), PO (polyolefin), ABS (acrylonitrile butadiene styrene), and PVC (polyvinyl chloride). (As of July 2022) We are also developing polyamide, polyester, and thermoplastic elastomer products using ingredients extracted from plant-based materials.
Bio-balanced products
We are able to utilize the existing petrochemical production infrastructure by incorporating bio materials from renewable plant-based oils into fossil fuel-based raw materials. Our plants are also capable of eco-friendly production using renewable energy such as solar and hydropower.
Manufacturing Process
Bio-based products
A wide range of plastics can be synthesized using compounds of alcohol, acid, and amine obtained by decomposing/fermenting starch extracted from corn and sugarcane. The synthesized plastic is used in various applications by reinforcing physical properties through additional compounding processes.
Manufacturing Process