LG Chem To Invest 10 Trillion KRW In New Growth Engines Such As Eco-friendly Materials, Battery Materials By 2025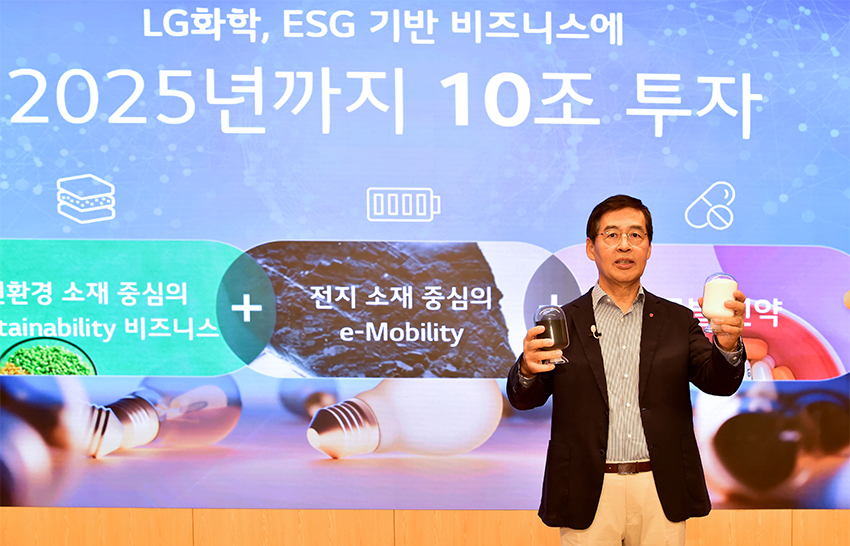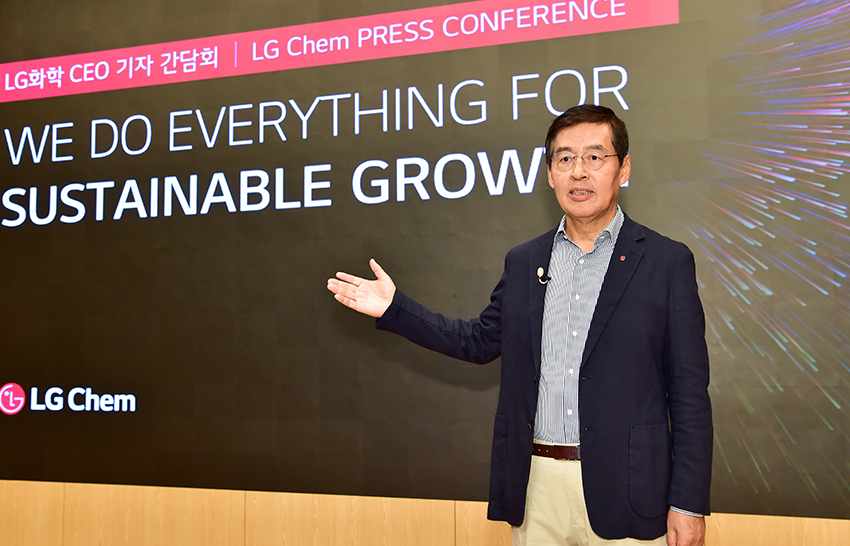 LG Chem To Invest 10 Trillion KRW In New Growth Engines Such As Eco-friendly Materials, Battery Materials By 2025
LG Chem Chief Executive Officer Hak Cheol Shin holds press conference
■ Declaration to switch business portfolio for sustainable growth
- Petrochemicals: To lead sustainable business focusing on eco-friendly materials such as full-scaled production of Bio SAP
- Advanced Materials: To grow into the world's largest comprehensive battery materials company having all core battery materials such as separation membranes, cathode binders, and become no. 1 in the world for anodes
- Life Sciences: To become a global pharmaceutical company with a minimum of 2 global innovative new drugs by 2030
■ Chief Executive Officer Hak Cheol Shin,
- "Over 30 projects including M&As, joint ventures (JV), strategic investments, etc. to make a paradigm shift to an ESG-based business portfolio are being reviewed"
- "This will be the most revolutionary change since the establishment of the company that will upgrade the value and sustainability of LG Chem, and tangible achievements will become available from the second half of this year"

Chief Executive Officer Hak Cheol Shin announced investment plans worth 10 trillion KRW in ESG-based sustainable growth sectors.
Chief Executive Officer Shin stated LG Chem selected ▲eco-friendly sustainable business ▲e-mobility centering on battery materials ▲global innovative new drugs as the three major new growth engines, declaring that 10 trillion KRW will be invested in these fields by '25 at a press conference held online on the 14th.
Chief Executive Officer Shin said, "The standard for measuring competitiveness in the business world should be based on sustainability for revenue and operating profits, and this should be reflected in all business processes, strategy, and investment, etc."
He added, "From this perspective, our business portfolio will be overhauled toward being based on ESG, while pursuing sustainable growth."
■ New growth engine triangle - eco-friendly materials, battery materials, global innovative new drugs
LG Chem selected three new growth engines that will be in accordance with ESG, while maximizing the growth potential of existing businesses.

① Sustainability business centered on eco-friendly materials

Plans are to invest 3 trillion KRW in sustainable businesses such as bio materials, recycled materials, and renewable energy industry materials to build a platform for the future growth of the
Petrochemicals Company.
LG Chem plans to begin full-scale production of the world's first bio-balanced SAP product that received ISCC Plus certification from this month, and supply them to global clients such as the US and Europe.
*SAP (Super Absorbent Polymer): Products manufactured with highly absorbent resins that can absorb water 200 times of its own weight commonly used for hygienic products including diapers
Bio-balanced SAP is an eco-friendly product manufactured using plant-based bio renewable materials such as waste cooking oil from Neste of Finland and fossil fuels together with base materials.
ISCC Plus is the most authoritative international certification in the world related to eco-friendly bio products. LG Chem acquired ISSC Plus certification for the entire value chain ranging from raw
materials to production, purchasing, and sales for a total of 9 bio-balanced products including SAP, PO, PC, etc.
*PO(Polyolefin): Raw material of plastic used in daily life such as PO (Polyolefin): PE (Polyethylene), PP (Polypropylene), etc.
*PC (Polycarbonate): Products with outstanding impact resistance and transparency, thus being used for interior and exterior materials for automobiles, household items, etc.
Biodegradable polymer PBAT is preparing to actively introduce technologies from outside companies and aiming to commence construction of production facilities within the year for rapid market
entry and to enhance its capacities.
*PBAT (Polybutylene Adipate-co-Terephthalate): Product used in agricultural and disposable films, etc. that quickly decomposes in nature through reactions with oxygen, heat, light and enzymes
The bio plastic market is expected to rapidly grow from 12 trillion KRW in 2020 to 31 trillion KRW by 2025. Therefore, JVs with domestic and foreign raw material companies are being actively pursued for stable sourcing of eco-friendly raw materials like PLA made with plant-based ingredients such as corn and bio naphtha.
*PLA (Poly Lactic Acid): Resin normally used for disposable packaging material that naturally decomposes as it is made with plant-based ingredients such as corn
It will also focus on enhancing its mechanical and chemical recycling capacities to build a circular economy for waste plastics. For mechanical recycling, plans are to strengthen the existing market
power of PC and ABS, while expanding the product portfolio to include PO and PVC, while increasing related product revenue by an annual average of more than 40% by 2025. For chemical recycling with high likeliness for long-term growth, the strategy entails finding and preoccupying platform technologies with good potential.
*ABS (Acrylonitrile Butadiene Styrene): High value-added synthetic resin with outstanding heat resistance and impact resistance, thus being used as interior and exterior materials for automobiles,
household appliances, and IT products
*PVC (Polyvinyl Chloride): Widely used thermoplastic applied in construction materials such as pipes and window frames, as well as household goods
Meanwhile, LG Chem is also establishing an eco-platform for 100% circulation of plastic resources for cosmetic product containers together with the start-up, innerbottle, to provide eco-friendly
packaging solutions, while also engaging in joint research to apply recycled plastic materials such as PCR (Post Consumer Recycle) ABS, etc. in cosmetic product containers.
Furthermore, it plans to actively look for new business opportunities in the renewable energy industry materials market such as POE/EVA for solar power panels. As the generation cost for renewable
energy such as solar power and wind power are becoming less expensive than fossil fuels in the US and China, renewable energy markets are growing rapidly.
*POE (Polyolefin Elastomer): LG Chem POE is a copolymer of ethylene using a unique metallocene catalyst and octene or ethylene and butene. This product is featured by reinforced impact resistance,
high elasticity, and low heat sealing temperature
*EVA (Ethylene Vinyl Acetate): Copolymer of ethylene and VA. It is characterized by elasticity, thermal bonding temperature, durability, penetrating power, etc. that change depending on the VA content, and is used in various fields such as solar power sheets, shoe soles, etc.
② E-Mobility centered on battery materials

In order to become the world's no. 1 comprehensive battery material company, LG Chem plans to invest 6 trillion KRW and foster the portfolio widely ranging from anode materials, separation
membranes, cathode binders, radiant adhesives, CNT, etc.
Plans are to commence construction of the Gumi Plant with a 60,000-ton capacity in December for the anode material business with the goal of fostering the company into a global leader.
Through this, the anode production capacity of LG Chem will increase by roughly seven-fold from 40,000 tons in 2020 to 260,000 tons by 2026.
A JV is being prepared with a mining company for the stable supply of metals that will be used as the raw materials for anode materials. LG Chem will actively pursue cooperation in various ways
with companies possessing mining, smelting and refining technologies to strengthen its metal sourcing competitiveness.
For the separation membrane business, LG Chem is reviewing M&As and JVs with companies having marketability such as technologies and clients to quickly enhance business capacities, while also
planning to build a global production base as soon as possible.
For products such as anode materials, cathode binders, and radiant adhesives, LG Chem plans to preemptively focus R&D resources to differentiate its technologies and acquire market leadership.
This is because in the battery materials market that is expected to grow quickly from 39 trillion KRW in 2021 to 100 trillion KRW by 2026, it is anticipated that demands for material innovation will
strengthen for the sake of improving performance and cutting costs.
*Binder: Fixes active materials on copper laminates when charging and discharging are repeated
*Radiant adhesive: Material that connects EV battery modules to emit heat generated in the battery cell to the outside, while also fixing the battery cell against external impact and vibration
In order to keep up with the market forecast for battery materials that are growing at a rapid pace, the company plans to expand the CNT production scale of the Petrochemicals Company from 1,700 tons in 2021 to triple or more by 2025. LG Chem expanded its production capacity by completing the CNT Plant 2 capable of producing 1,200 tons per year to target the anode conductive additive
market for lithium-ion batteries in April, while continuously expanding production capacities such as making preparations to start construction of Plant 3 within this year.
CNT (Carbon Nanotube): A new material having the same electric and heat conductivity equivalent to copper and diamonds, and its intensity is 100 times that of steel.
*Conductive Additive: Material that helps with the flow of electricity and electrons and it is used as an additive throughout lithium-ion batteries. In particular, it enhances conductivity of lithium-ions inside the
anode material that is composed of active materials such as nickel, cobalt, and manganese, thereby improving charging/discharging efficiency
③ Global innovative new drugs

The Life Sciences Company will invest more than 1 trillion KRW in the new drug business alone with the goal of becoming a global new drug company holding two or more new innovative drugs by 2030 to enter advanced markets such as the US and Europe.
The Life Sciences Company has accelerated efforts to develop new drugs by expanding the new drug pipelines from 34 in 2019 to 45 as of now in 2021 and focusing on R&D investment.
In particular, the Life Sciences Company is concentrating its development capacities in the four strategic disease groups of diabetes, metabolism, anti-cancer, and immunity, which has strengths in.
Plans are to expand new drug pipelines that entered the clinical development stage from 11 in 2021 to 17 by 2025.
For this, it is actively reviewing various open innovation strategies including M&As and the establishment of JVs, while also establishing a research firm in the US and continuously procuring
personnel with expertise in clinical studies/licensing to further strengthen its global clinical development capacities.
Chief Executive Officer Hak Cheol Shin commented, "It is essential to switch the business portfolio based on ESG to respond to the market and clients that are rapidly changing."
He added, "There are currently over 30 projects including M&As, joint ventures (JV), strategic investments, etc. under review to cooperate with external companies having the relevant technologies and clients."
Chief Executive Officer Shin also stated, "As the most revolutionary change since the establishment of the company that will upgrade the value and sustainability of LG Chem has already begun,
tangible achievements will become available from the second half of this year."

<Reference1> Investment plans worth 10 trillion KRW in ESG-based sustainable growth sectors.
Growth engine

Size of investment

Content

Sustainability business centered on

eco-friendly materials

3 trillion KRW

ㆍ Full-scale production of the world's first bio-balanced SAP

ㆍ building a circular economy for waste plastics

ㆍ Promotion of renewable energy industry materials businesses

E-Mobility centered on
battery materials

6 trillion KRW

ㆍ Development of global top-tier of anode materials

ㆍ Fast entry into the market for separator business

ㆍ More than tripled CNT production from 1,700 tons in 21 years

ㆍ Research and development of anode materials, cathode binders, heat-resisting adhesives, etc.

Global innovative new drugs

1 trillion KRW

ㆍ global new drug · Top 45 new drug pipelines in Korea

ㆍ Expansion of new drug pipelines in clinical stages such as diabetes, metabolism, anti-cancer, and immunity

ㆍ Global clinical development & business acceleration
<Reference2> ESG Data Factbook 2020 LG Chem ESG Factbook(ENG).pdf