LG Chem Extends 'Dream Material' Carbon Nanotubes (CNT) by 1,200 Tons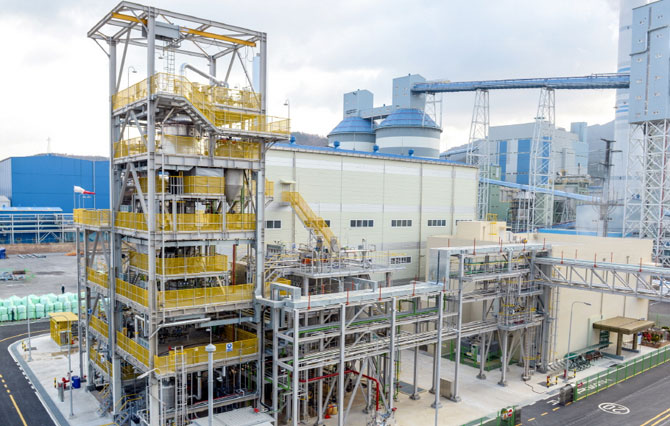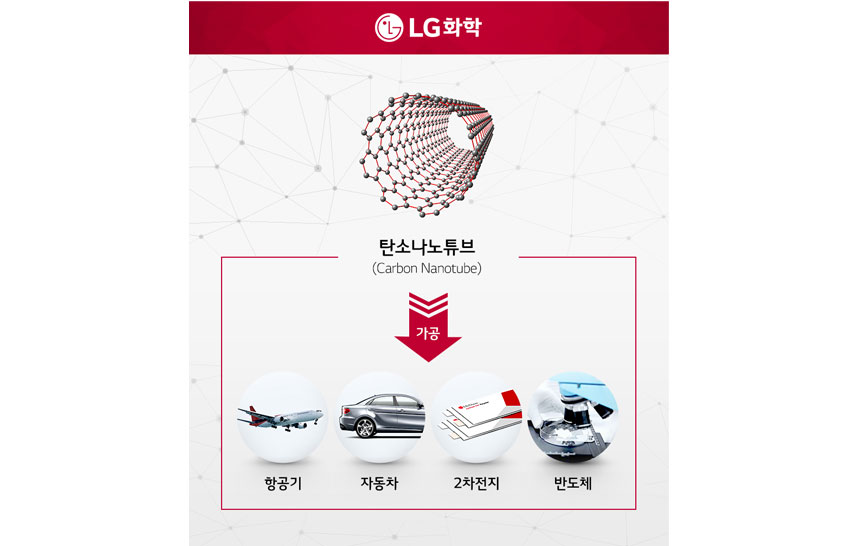 ■ Plans to invest app. 65 billion KRW in Yeosu Plant by Q1 of 2021
- Including existing 500 tons, constructing production system of a total of 1,700 tons

■ Actively targeting the rapidly growing carbon nanotubes (CNT) market
- Annual average growth of over 30% centering on EV battery materials
- Accelerating entry in future markets by developing various new uses domestically and internationally

■ Noh Kug-lae, Head of the Petrochemicals Company
"We will become a dominant market leader in the next-generation high-value materials based on our unique proprietary technologies and experiences in mass production"



▣ Targeting the CNT market that is growing rapidly at an annual average of more than 30%

LG Chem is actively pioneering the carbon nanotube market, which is called a dream material.

Related to this, LG Chem announced on the 27th that it will invest about 65 billion KRW by Q1 of next year to expand CNT by 1,2000 tons at the Yeosu plant.

Once the expansion is made, LG Chem will have a total production capacity of 1,700 tons by adding the existing 500 tons.

CNT is a next-generation new material having the same electric and heat conductivity equivalent to copper and diamonds, and its intensity is 100 times of steel. Thanks to its properties that are superior to existing materials, its use is wide ranging including batteries, semiconductors, automobile parts, aircraft fuselages, etc.

Regarding this extension, LG Chem stated that this measure was taken to not only target the global EV market, but also the CNT market that has recently been rapidly growing for use in anode *conductive additives of lithium ion batteries.

*Conductive additive: Material that helps with the flow of electricity and electrons and is used as an additive throughout small and medium lithium ion batteries. In particular, it increases conductivity of lithium ions within the anode material comprised of active materials such as nickel, cobalt and manganese.

By using CNTs as anode conductive additives, it is possible to realize high conductivity upwards of about 10% compared to existing carbon black and reduce the amount of conductive materials usage by about 30%, and that space can be filled with necessary anode materials to increase the capacity and life of lithium ion batteries.

Thanks to these features, CNT demand is expected to post explosive growth of an annual average of about 34% to rise from 3,000 tons last year to 13,000 tons by 2024 mainly centering on the global EV market.

In particular, as the world leader of EV batteries, LG Chem plans to further strengthen product competitiveness by actively utilizing CNT lithium ion batteries.


It also plans to gradually increase sales to global IT materials companies and end-car makers in North America, Europe and China and it is also scheduled to review plans for additional extensions in 2022.



▣ Pioneering the future market with a mass production system based on proprietary technologies

Through this investment, LG Chem will be able to accelerate its product structure advancement strategies based on distinguished technologies that it is pursuing in the petrochemical sector.

LG Chem began full-fledged R&D to develop proprietary carbon nanotube technologies in 2011 and constructed a 20-ton pilot mass production line in 2013. In 2014, it developed battery material and conductive compound products and it currently possesses over 250 patents in just CNT-related fields.

Through the world's largest fluidized bed reactor that it developed, it constructed a massive production system and it is actively targeting the market through various CNT products ranging from existing powder forms to compressed forms that are convenient for clients to use.

Plans are also in place to develop a variety of new uses for applying CNT such as gang form (large casts for construction), semi-conductive layer inside high-voltage cable sheaths, high strength concrete for architecture, etc. and commercialize it in the market.

Noh Kug-lae, head of the Petrochemical Company, said, "We must lead the market with distinguished technologies and products to survive in the global materials competition," while adding, "We will become a dominant market leader in the next-generation high-value materials including CNTs based on our unique proprietary technologies and experiences in mass production."
[Attachment] Global Carbon Nanotube (CNT) Market Demand Forecast
| | | | | | | |
| --- | --- | --- | --- | --- | --- | --- |
| Section | 2019 | 2020 | 2021 | 2022 | 2023 | 2024 |
| CNT | 3,000 tons | 4,000 tons | 6,000 tons | 8,500 tons | 11,000 tons | 13,000 tons |
* Source : Industry estimates