LG Chem - GS Caltex Develops EV Battery Specialized Services Using Big Data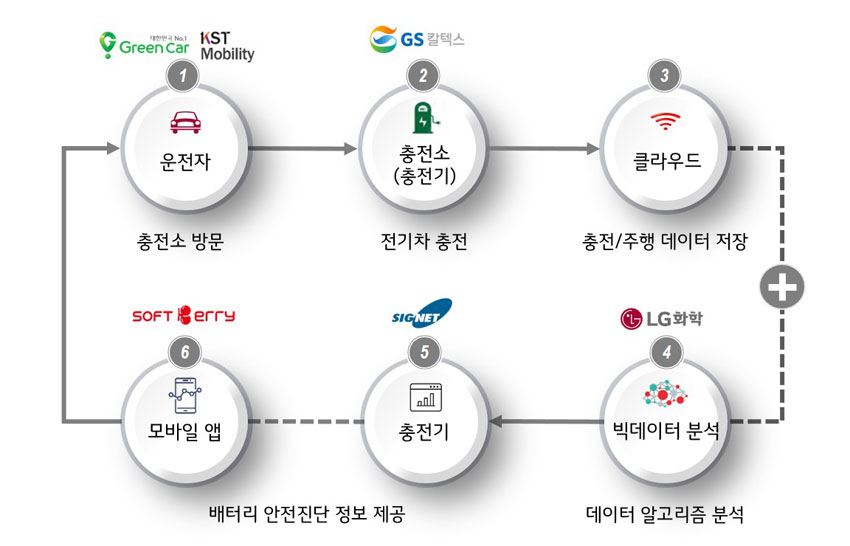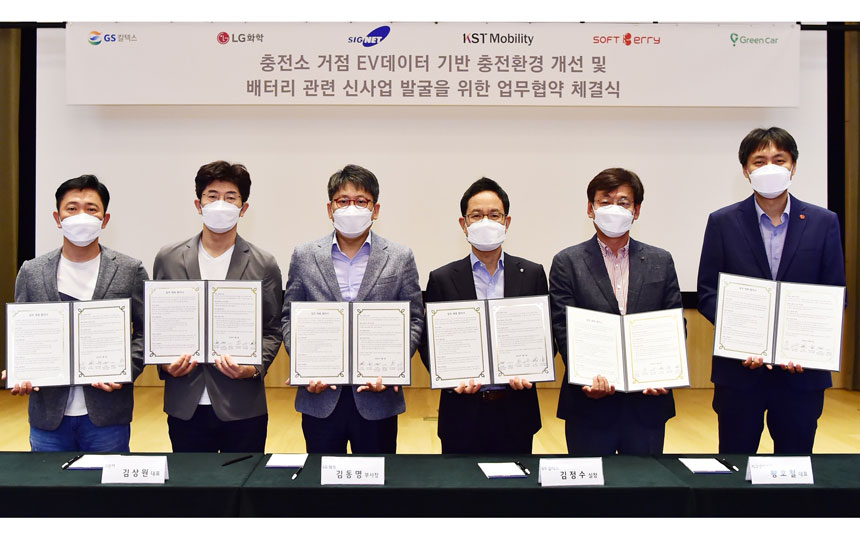 LG Chem - GS Caltex Develops EV Battery Specialized Services Using Big Data

■ Entered MOU to improve charging environment and find new business opportunities together with 4 EV ecosystem partner companies
■ Develop battery specialized services through charging/driving data analysis by 2021
■ One-stop support including safety diagnostics, smart charging, and remaining life prediction at the EV charging station
■ Planning to continuously expand EV ecosystem using EV charging systems as hubs

LG Chem and GS Caltex will team up with partners in the EV industry to develop EV battery specialized services using big data.
Regarding this, LG Chem and GS Caltex announced on the 7th at the Seoul Yeouido LG Twin Tower that it entered the 'MOU for Improving the Charging Environment and Finding New Business Opportunities' together with Signet EV, Soft Berry, KST Mobility, and Green Car.
LG Chem and GS Caltex agreed on the need to develop a charging solution for the sake of developing an EV ecosystem, and will collaborate with partners in the EV industry by deciding to provide battery services using big data generated during the EV charging process.
This ceremony was attended by LG Chem Automobile Energy Solutions Vice President Dong Myung Kim, GS Caltex Strategic Planning Office Executive Director Jung Soo Kim, Signet EV CEO Chul Ho Hwang, Soft Berry CEO Yong Hee Park, KST Mobility CEO Haeng Yeol Lee, and Green Car CEO Sang Won Kim, as well as other industry figures.
The purpose of this MOU is to utilize EV big data collected at charging stations to find various battery specialized services, and LG Chem and GS Caltex agreed to first develop a battery safety diagnostic service.
The battery safety diagnostic service will save driving and charging data in a cloud server while an EV (Green Car, KST Mobility) charges at a GS Caltex Charging Station, and using the LG Chem big data analysis and battery service algorithm, the current status and dangers of the battery will be checked and provided not only on the charger panel (Signet EV), but also the driver's mobile phone (Soft Berry).
After completing the empirical project by 2021, LG Chem and GS Caltex will launch domestic service businesses and they also plan to expand the battery specialized service business to overseas charging markets starting in 2022.
The two companies also agreed to search for new services such as smart charging and remaining life prediction that can improve the battery life based on the battery safety diagnostic service in the future. Once the service is developed, the driver can receive one-stop services at the GS Caltex EV charging station including battery safety diagnostics, smart charging that applied degeneration prevention algorithms, and remaining life prediction services.
This MOU is meaningful in that LG Chem, which is the leader of the global EV battery market, teamed up with GS Caltex, a company that is not only a traditional powerhouse in the oil refinery business but is also strengthening its competitiveness in the energy-mobility sector, to commercialize services specialized in batteries.
LG Chem possesses the world's best technologies by procuring over 17,000 intellectual properties related to EVs through preemptive R&D investments over the past 30 years. In addition, it supplied batteries to about 3.5 million EVs around the world as of the end of last year, and based on this, it has also obtained long-life battery technologies and life assessment capacities.
GS Caltex has installed and is currently operating 100kW EV chargers at 44 gas stations/charging stations nationwide. It plans to continue to expand the EV ecosystem based on its gas stations by having 160 EV charging stations (100kW or higher) by 2022, while also increasing relevant services.
LG Chem Automobile Energy Solutions Vice President Dong Myung Kim stated, "By providing services specialized to EVs through this MOU, we have created the cornerstone for drivers to use EVs more safely and conveniently."
He also added, "We will become the global leader not only in EV battery product competitiveness, but also in services."
GS Caltex Executive Director Jung Soo Kim said, "The EV charging business not only has to offer faster and more convenient charging services, but should also collect data and offer various vehicle diagnostics services at the charging station."
He added, "We plan to collaborate with partner companies in the EV ecosystem and gather the strengths of each company to create an organic business model."
[Reference] EV battery safety diagnostics service model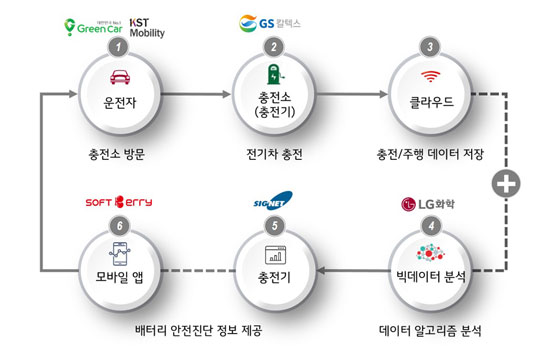 GS칼텍스 GS Caltex
운전자 Driver
충전소방문 Visit charging station
충전소(충전기) Charging station(Charger)
전기차 충전 Charge EV
클라우드 Cloud
충전/주행데이터 저장 Save charging/driving data
모바일 앱 Mobile app
배터리 안전진단 정보제공 Provide battery safety diagnostics information
충전기 Charger
LG화학 LG Chem
빅데이터 분석 Big data analysis
데이터 알고리즘 분석 Analyze data algorithm