LG Chem Introduces 24 Hours a Day Contact-free Psychological Counseling for All Work Places Worldwide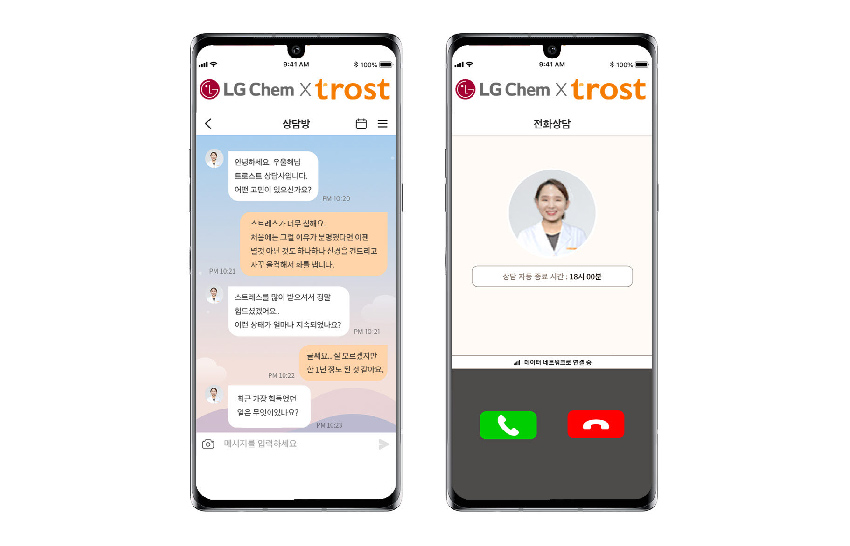 "The Company Takes Care of The Health of Its Members."
LG Chem Introduces 24 Hours a Day Contact-free Psychological Counseling for All Work Places Worldwide
■ Operates mobile psychological counseling program for over 20,000 members in 17 countries
- One-stop counseling using mobile app anywhere, anytime
- Constructed hotline for counseling in seven languages for foreign members
■ Expected to strengthen work immersion through psychological stabilization such as stress relief
■ Chief Executive Officer Hak Cheol Shin, "We will continue to expand welfare programs that can embrace and comfort our members around the world and provide practical help for psychological stability"

LG Chem will introduce a 24-hour psychological counseling program to help members maintain a healthier mind following the prolonged COVID19.
LG Chem announced on the 22nd that it would implement its global psychological counseling program called, 'The Good Heart' available in eight languages to help its 20,000 plus members in 17 countries around the world become psychologically stable and operate it 24 hours a day.
* 8 languages: Korean, English, Chinese, Japanese, Indonesian, Indian, Thai, Vietnamese
This aims at actively helping members who feel psychological anxiety due to working from home and the change of how work such as online hiring, training and meetings is conducted because of the prolonging of COVID19 so that members can relieve stress without being constrained by time or place.
Contact-free mobile counseling for one-stop access anywhere, anytime
LG Chem will focus on operating mobile counseling availably anywhere, anytime to overcome the limitations of the one-on-one in-person method that used to be provided by in-company counselors, while also extending services to workplaces that did not offer psychological counseling. Mobile counseling is mainly composed of the two methods of real-time chatting and counseling by phone. Any member of LG Chem can install the mobile app and receive psychological counseling for not only work-related issues such as career and life in organizations, but also personal concerns such as relationship with family members all in a one-stop service.
LG Chem entered a user agreement for the mobile platform Trost with the Korean psychological counseling start-up, Humart Company.
Plans are to use outside psychological counselors to thoroughly maintain anonymity and confidentiality, while also actively utilizing text therapy for the MZ generation that generally prefers contact-free interaction.
The biggest feature of text therapy is the continuity of counseling through chatting, and has the advantage that it is possible for the user to be aware of their improved psychological state by looking at past counseling contents.
A 24-hour hotline will also be built in the local language for overseas members. LG Chem currently operates places of business in a number of countries around the world including China, USA, Brazil, Germany, Russia, Poland and Jordan, and employees about 6,000 people. The hotline counseling service for overseas members is scheduled to be offered from March together with psychological counseling firms having global networks.

Expected to strengthen work immersion through psychological stabilization such as stress relief
LG Chem anticipates that the introduction of this program will help with the psychological stability of members, thereby enhancing work immersion, while also reaping in additional effects such as preventing environmental safety accidents.
LG Chem Chief Executive Officer Hak Cheol Shin said, "Due to the spread of COVID19 and changes in the times, many changes are occurring directly connected to our professional and personal lifestyles including online meetings and working from home." He added, "LG Chem will continue to expand welfare programs that can embrace and comfort our members around the world and provide practical help for psychological stability in response to such rapid changes."