LG Chem Invests 1.2 Trillion KRW to Expand Battery Plant in Nanjing, China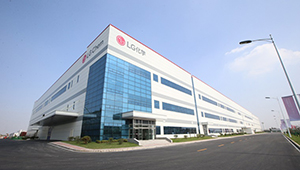 LG Chem Invests 1.2 Trillion KRW to Expand Battery Plant in Nanjing, China
■ Held investment agreement ceremony on the 9th with Nanjing Mayor Lan Shaomin and LG Chem Director Kim Jong-hyun in attendance

■ Invest 600 billion KRW each in the EV battery plant 1 and small battery plant

■ Expansion to pioneer the new global market
- Respond to market demands for EV pouch batteries and non-IT circular batteries

■ Battery Business Director Kim Jong-hyun,
"We will lead the global market in not only EVs, but also the new circular battery market sector"
LG Chem will invest 1.2 trillion KRW for expansions in Nanjing, China to extend into new global markets in the battery sector.
Regarding this, LG Chem announced that it held at battery plant investment contract ceremony with Nanjing City at the Xuanwu Hotel in Nanjing, China on the 9th.
At this event were present Nanjing Mayor Lan Shaomin and Vice-mayor Jiang Yuejian and LG Chem Battery Department Kim Jong-hyun.
With this investment agreement, LG Chem decided to invest 600 billion KRW each in the EV battery plant 1 and small battery plant in the Nanjing Xinjiang Economic Development Zone by 2020.
The purpose of this investment is to preemptively respond to the rapid increase in non-IT circular batteries such as the continuously growing pouch battery for EVs, as well as *LEV, electronic tools, wireless vacuum machines, etc.
* LEV: Abbreviation of Light Electric Vehicle, referring to electric bicycles, electric scooters, etc.
According to the market survey company B3, it is expected that the global demand for circular batteries will increase from approximately 2.3 billion units in 2015 by about 27% every year to 6 billion units in 2019.
Battery Business Director Kim Jong-hyun who was present at the investment contract ceremony said, "Through this expansion, we will lead the global market in not only EVs, but also in newly rising sectors such as light electric vehicles, electronic tools, etc."
He added, "We will foster the three battery plants located in Nanjing into the export bases of Asia and the world."
Meanwhile, in addition to the two battery plants located in the Xinjiang Economic Development Zone in Nanjing, LG Chem has also been constructing two EV battery plants since October of last year in the Binjiang Economic Development Zone.