LG Chem, Creating an Unprecedented ESG Business Model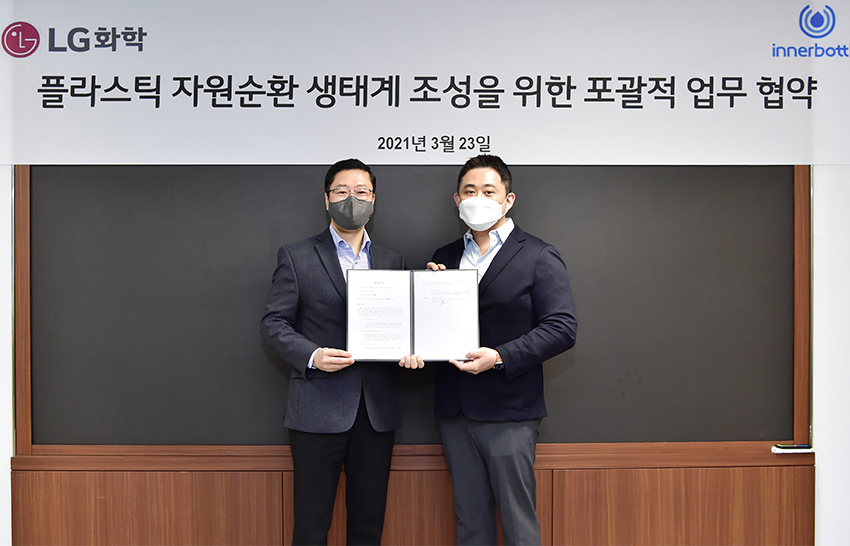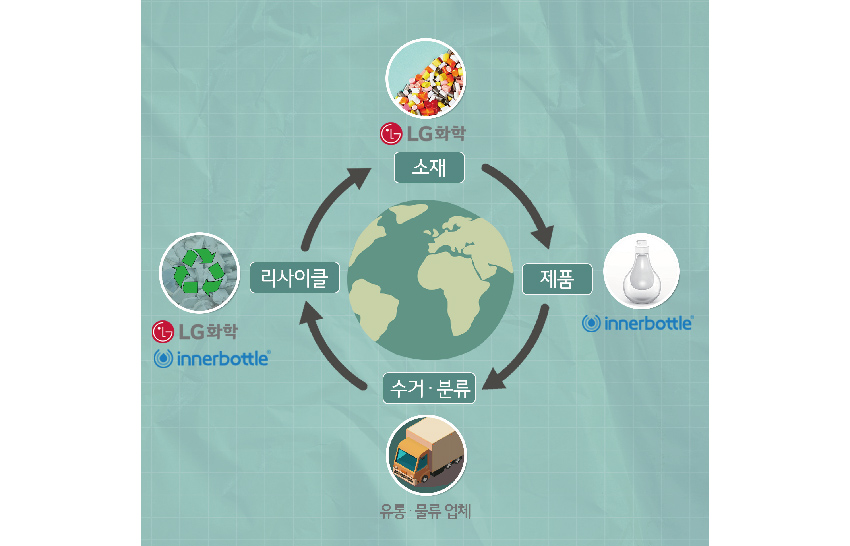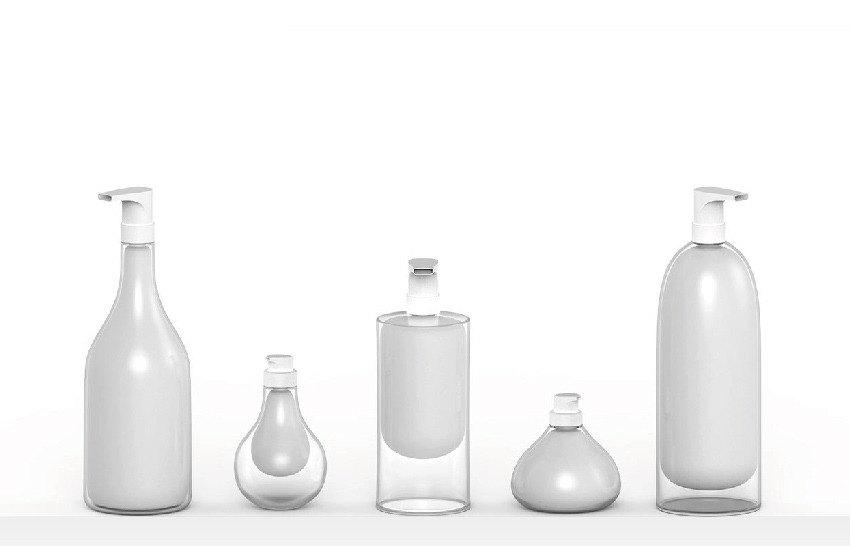 LG Chem, Creating an Unprecedented ESG Business Model
"In partnership with innovative Korean startup Innerbottle, LG Chem is establishing an eco-platform that fully recycles cosmetic containers"

■ Plastic resource 100% circulation system: 'Materials (LG Chem) → Product (Innerbottle) → Collection (logistics company) → Recycle (LG Chem & Innerbottle)'
- Dedicated system establishment which uses and collects Innerbottle containers that are made from LG Chem materials
- Sustainable ESG growth model that reduces carbon and expands eco-friendly business
■ Starting with cosmetics and then expanding its application to food and medicine; joint development of eco-friendly plastic material that will be used in various containers.
- If just 10% (1.5 billion) of the plastic cosmetic containers discarded every year around the world are recycled, it is expected to reduce 75,000 tons of carbon every year.
(Equivalent to planting 11.4 million pine trees)
■ SUNG WOO HUR, Executive Vice President and Group Leader of Petrochemical Global Business Development,
"It is meaningful that a global conglomerate and a startup are working together to create the world's first plastic resource circulation platform which can potentially be market pioneers within the global ESG mega-trend, and create sustainable growth."
"LG Chem will work towards building an eco-friendly petrochemical business, which can sustain together with the environment."

LG Chem is creating an ESG business model that covers the entire eco-cycle from plastic production, collection after use, and recycling.
On March 23, LG Chem announced a partnership with an innovative Korean startup Innerbottle to create a "Plastic Eco-Platform" which will enable complete recycling of plastic cosmetic containers.
Innerbottle is an innovative startup that offers sustainable eco-friendly packaging solutions, with more than 50 intellectual property rights registered domestically and overseas. In 2019, the Company received Asia Development Bank's "Start-Up of the Year" and "Red Dot Design Awards", in recognition of the innovative function and design of their products.
The eco-platform to be established by the two companies has the following cycle:
'Materials (LG Chem) → Product (Innerbottle) → Collection (logistics company) → Recycle (LG Chem & Innerbottle)'.
Using the plastic materials provided by LG Chem, Innerbottle produces cosmetic containers. The used Innerbottle containers are collected through a dedicated logistics system, and then returned to LG Chem and Innerbottle who recycles them as raw materials for new production.
Since a unified container with only LG Chem plastic materials is collected and recycled through a dedicated system, plastic resources can be quickly and completely recycled 100%.
To achieve this, LG Chem plans to stably provide eco-friendly plastic materials that are used in the production of the containers by Innerbottle. The two companies will also create a distribution network and logistics collection system that can precisely track the path from container production to collection.
Starting with cosmetics and then expanding its application to food and medicine
The two companies plan to start off by applying the platform to cosmetic containers that Innerbottle is producing in the second half of this year, and then expand its application to food and medicine containers.
Innerbottle is producing a cosmetic container which has an embedded balloon-shaped "silicon pouch" inside a transparent plastic bottle. Since the cosmetic contents are only contained in the silicon pouch inside, the external plastic container can be recycled immediately without requiring an additional cleaning process.
Also, due to the elasticity of the silicon pouch, the cosmetic contents can be used without leaving any residues.
This design is drawing attention as an eco-friendly package solution, and the company is receiving continuous inquiries for supply from global luxury cosmetics brands.
Cosmetic containers are difficult to recycle since they typically use "composite plastics (OTHER)" to prevent deterioration of the contents.
Even if a recyclable single-material is used, recycling is not easy due to the residue contents left in the containers.
LG Chem plans to provide eco-friendly plastic materials such as PCR(Post Consumer Recycle), ABS(Acrylonitrile Butadiene Styrene), and EP(Engineering Plastics) to Innerbottle, as a replacement for OTHER. In addition, LG Chem plans to conduct joint research to replace Innerbottle's silicon pouch with LG Chem's NB Latex (Nitrile Butadiene Latex).
NB Latex has a higher elasticity and more than 5 times higher oxygen blocking rate compared to silicon pouch. Therefore, NB Latex can achieve the same results with a smaller amount, making it more cost competitive and advantageous in preventing deterioration of the contents.
If products produced through the Eco-Platform are expanded to all industries which use plastic containers, LG Chem expects the following benefits: ▲ Reduction in production cost of recycled plastic due to elimination of additional disposal, sorting, and cleaning procedures, ▲ Significant reduction in the use of fossil materials due to the use of recycled materials ▲ Significant carbon-reduction effect.
For example, more than 15 billion bottles of cosmetic plastic containers are thrown away every year around the world. If just 10%, or 1.5 billion bottles, are replaced recycled through the Eco-Platform, it is expected to reduce 75,000 tons of carbon dioxide every year. This has equivalent effect as planting 11.4 million 30-year-old pine trees.
SUNG WOO HUR, Executive Vice President and Group Leader of LG Chem's Petrochemical Global Business Development, stated "It is meaningful that a global conglomerate and a startup are working together to create the world's first plastic resource circulation platform which can potentially be market pioneers within the global ESG mega-trend."
Furthermore, he added, "LG Chem will work towards building an eco-friendly petrochemical business, which can sustain together with the environment."