LG Chem to produce 100% Bioplastic with a Global Major Grain Processing Company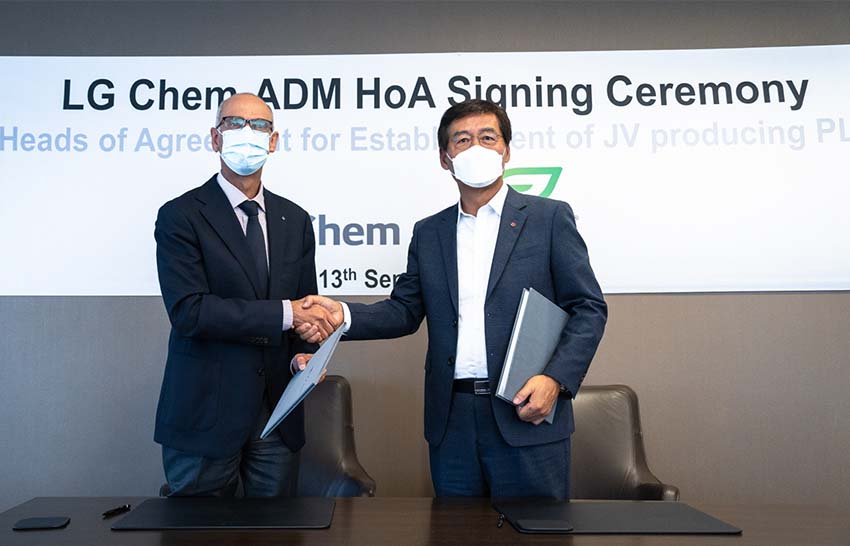 LG Chem to produce 100% Bioplastic with a Global Major Grain Processing Company
"First Korean company to build a Poly Lactic Acid (PLA) plant in the U.S."
■ On the 13th, Heads of Agreement (HOA) for establishment of bioplastic PLA joint venture signed with Archer-Daniels-Midland Company (ADM), one of the four major grain processing companies in the world.
- Construction of a production plant with an annual capacity of 75,000 tons in the US by 2025
- Plans to establish an integrated production system for LA(Lactic Acid) which is a raw material as well as PLA
■ Expected synergies between the two companies in the sustainability sector, including securing eco-friendly raw materials and expanding business areas
- LG Chem: Internalization of raw materials necessary for PLA production and scale-up of the bio-material business
- ADM: Expansion of the business portfolio into the biochemical sector
■ Further plans to strengthen cooperation in R&D of biomaterials that can applied in the sustainability sector
■ Chief Executive Officer Hak Cheol Shin,
"This joint venture is the start of a new journey to lead the transition to a sustainable business structure for the benefit of the environment and society"
"As a leading company for sustainability, we will actively seek new ways to contribute to carbon-neutral growth."
LG Chem and Archer Daniels Midland (ADM) in the US, one of the world's four major grain processing companies, will set up a joint factory for the purpose of commercializing corn-based bioplastics.
LG Chem announced that it had signed a Heads of Agreement (HOA) for the establishment of a Lactic Acid (LA) and Poly Lactic Acid (PLA) joint venture on September 13th (local time) at the ADM headquarters in Chicago, Illinois, in the presence of executives from both companies, including ADM CEO Juan Luciano and Hak Cheol Shin, CEO of LG Chem.
The two companies will sign the definitive agreement in the first quarter of next year and plan to complete construction of the PLA production plant with an annual capacity of 75,000 tons and LA production plant for this purpose in the U.S. by 2025.
LG Chem is the first Korean company to build a PLA plant in the US with integrated production from raw materials to end products.
PLA is a representative biodegradable plastic made using the raw material of LA that is produced by fermenting and refining glucose extracted from corn. Produced from 100% bio-materials, PLA is mainly used for food packaging containers and tableware, comprising an eco-friendly material that is naturally decomposed in several months by microorganisms under certain conditions.
According to market research institutes, as the demand for biodegradable plastic is increasing caused by the strengthening of regulations on the use of disposable products worldwide, the global bioplastic market is projected to grow by an annual average of 23% from a scale of 12 trillion won in 2021 to 34 trillion won in 2026.
ADM is a global grain processing company that operates crop procurement facilities in 200 countries around the world.
The company also has technical advantage in the production of glucose as the most important raw material for bio-based chemicals, as well as fermentation technology using glucose.
The establishment of the joint venture will allow LG Chem to integrate renewable biomaterials into the development of its various high-added-value products based on vertical integration, and secure the production capacity for high-purity lactic acid at a commercial scale, thereby securing a stable supply of raw materials necessary for PLA production.
LG Chem plans to actively penetrate into the bioplastic market based on its PLA production capacity.
In particular, it plans to accelerate the commercialization of its biodegradable plastic as a potential contribution to the response to climate change and the resolution of environmental issues such as plastic waste as part of its sustainability strategy.
Through this agreement, the two companies also agreed to actively cooperate in the joint research and development of biomaterials that can be applied in the eco-friendly and sustainability sector in the future.
Back in 2019, LG Chem signed a joint development agreement (JDA) with ADM to secure mass production technology for eco-friendly bio-acrylic acid. This initial cooperation laid foundations for the current establishment of the PLA joint plant.
*Bio-acrylic acid is mainly used to produce eco-friendly super absorbent polymer, a raw material for diapers and various hygiene products, based on advanced grain fermentation technology and advanced catalyst manufacturing technology.
ADM CEO Juan Luciano remarked, "Our cooperation with LG Chem will create a new opportunity for growth in solutions based on bio-based materials and the enhancement of value for our customers."
Meanwhile, LG Chem CEO Hak Cheol Shin stated, "The establishment of a joint venture with AMD will be the start of a new journey that goes beyond simple cooperation to lead the transition to a sustainable business structure for the benefit of the environment and society."
He also added, "We will continue to actively seek out new ways to contribute to carbon-neutral growth as a leader for sustainability."