LG Chem Completes Integration with CEM Business and Becomes 'One Family'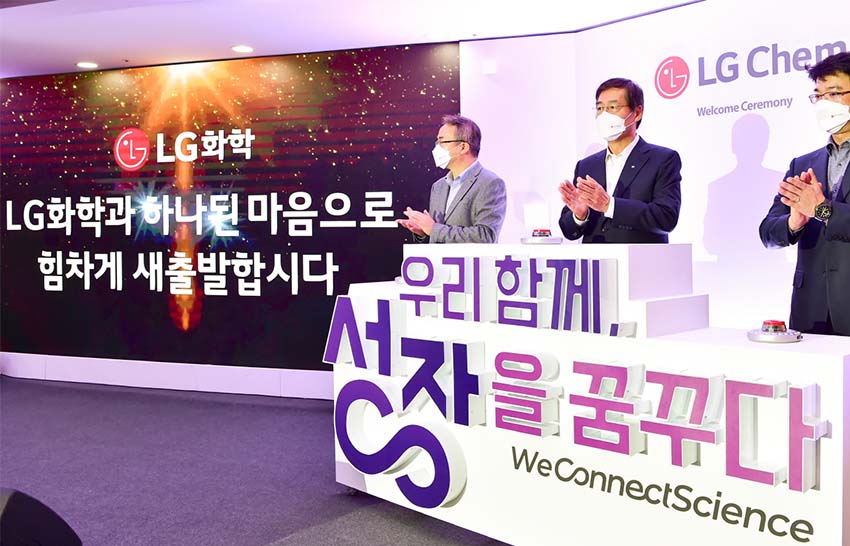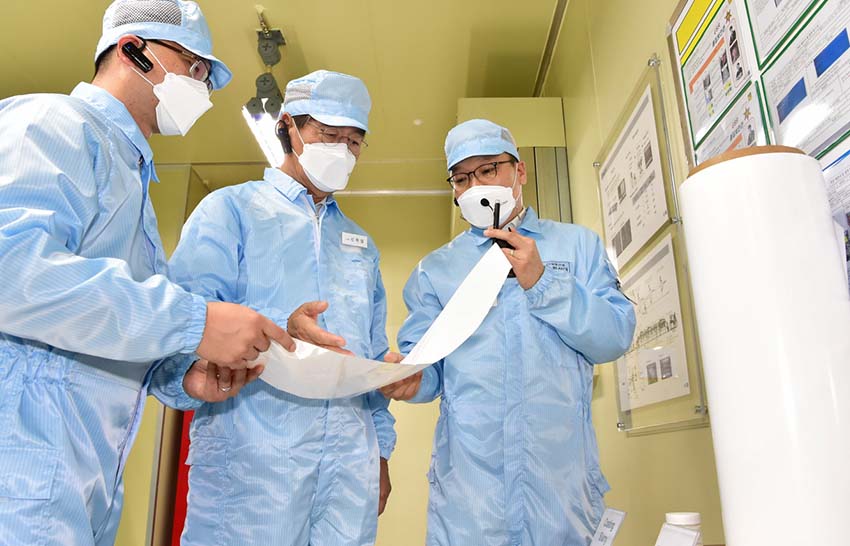 LG Chem Completes Integration with CEM Business and Becomes 'One Family'
■ Ceremony for sharing visions and declaring a new start held on 1st at the LG Chem Cheongju CEM Business Place with the attendance of employees of the CEM business including Chief Executive Officer Hak Cheol Shin
■ Chief Executive Officer Hak Cheol Shin,
"No efforts will be spared to support not only the growth of our business by creating customer value, but also individual growth"
"We will create an organizational culture that offers warm consideration so that employees can feel proud to be part of LG Chem and encourage and support leaders for this"
LG Electronics' CEM (Chemical Electronic Material) business that LG Chem acquired completed the integrated process with LG Chem and has begun its businesses in earnest.
LG Chem announced that it held a declaration ceremony for a new start with the attendance of Chief Executive Officer Hak Cheol Shin, key management, and employee representatives, etc. at the main building auditorium of the CEM plant in Cheongju, Chungbuk on the 1st, while streaming it online so that all employees could view the ceremony.
The CEM business produced battery materials such as separation membrane coating and display materials, etc. under the LG Electronics' BS (Business Solution) company. In July, LG Chem acquired the business sector by investing 525 billion KRW to concentrate on the fostering of its battery materials business. In October, LG Chem announced that it established a joint venture for separation membrane with Toray of Japan to pioneer the European separation membrane business and strengthen its business capacities, and plans to invest over 1 trillion KRW by 2028.
The CEM business will be operated as the CEM Division directly under the LG Chem Advanced Materials Company with the goal of stable landing the business and to create synergy effects with existing businesses.
At this event, which was held to welcome the CEM Division for becoming a member of LG Chem, executives of LG Chem took a tour around the plant, while greeting and encouraging employees working at the production site.
Following the tour, Chul Nam, President of the Advanced Materials Company that the CEM Division is under, shared mid- to long-term plans to quickly conquer the market focusing on batteries, IT materials, and automobiles to rise into a global top materials company in his speech titled 'Dreaming of Growth Together.'
In his welcoming address, Chief Executive Officer Hak Cheol Shin stated, "The CEM Division and LG Chem have now become a family who will share the same dreams within shared fences to grow together and help each other." He added, "We will spare no efforts not only for the growth of our business by creating customer value, but also for individual growth."
He further stated, "We will create an organizational culture that offers warm consideration so that employees can feel proud to be part of LG Chem and encourage and support leaders for this."
Meanwhile, the CEM Division has production facilities in Cheongju of Korea, Hangzhou of China, and Wroclaw of Poland in Europe, employing a total of approximately 800 people.