LG Chem and LX Hausys to Cooperate in Eco-friendly PVC Door, Window and Floor Materials Business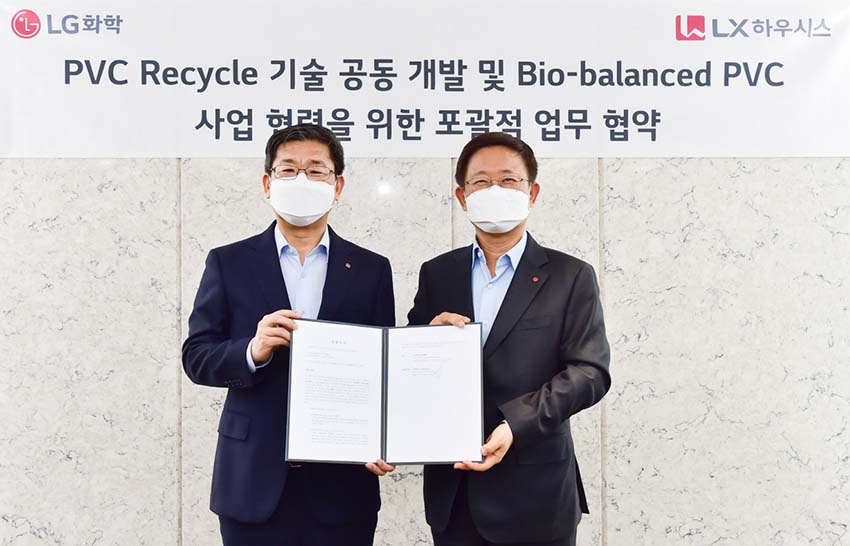 LG Chem and LX Hausys to Cooperate in Eco-friendly PVC Door, Window and Floor Materials Business
■ Signed MOU for Joint Development of PVC (Polyvinyl Chloride) Recycling Technologies and to Expand Related Businesses
- Extract and reuse highly pure PVC from waste construction materials by combining the recycling technologies of the two companies
■ Actively discussing plans for launching and commercializing PVC products using plant-based raw materials
■ KUG LAE, NOH (Executive Vice President / President, Petrochemicals Company),
"Cooperation of the two companies is a practical course of action to expand eco-friendly technologies that can be applied in the value chain encompassing raw materials and final products to even resource circulation"
"By strengthening R&D in the eco-friendly materials and technology sectors, we will expand the sustainable business structure and product portfolio"
LG Chem will team up with LX Hausys to expand the eco-friendly PVC (polyvinyl chloride) business.
LG Chem announced on the 16th that executives from the two companies including LG Hausys CEO Kang Gye-woong and LG Chem Petrochemicals Company President KUG LAE, NOH met at the LG Seoul Station Building to sign an MOU on joint development of PVC recycling technologies and to cooperate in PVC businesses using bio raw materials.
PVC is a widely-used plastic used instead of wood or steel thanks to its outstanding insulation performance and durability, and it is normally used as raw materials for door and window, floor materials, and construction materials.
With this MOU, the two companies agreed to jointly develop recycling technologies for extracting highly pure PVC from waste construction materials and to actively cooperate in the commercialization of PCR-PVC technologies applying this.
*Post-Consumer Recycle (PCR): recycling technology for items that completed use by consumers
The two companies currently possess their own proprietary technologies for extracting only highly pure PVC while selectively eliminating various adhesives and impurities - LG Chem's technology extracts from soft construction materials such as floor materials and LX Hausys' technology from hard construction materials such as door and window. Regarding this, LX Hausys announced earlier this month that it developed Korea's first technology for extracting and collecting PVC from waste construction materials such as discarded PVC door and window, and that it applied for a total of six patents related to its manufacturing method.
As efforts to develop technologies to recycle waste construction materials continue to grow globally, cooperation of the two companies is expected to help mitigate technological difficulties such as removing adhesives, while also creating huge synergy effects for expanded application and recycling of eco-friendly renewable resins.
Furthermore, the two companies also agreed to actively discuss plans for launching and commercializing bio-balanced PVC products made with plant-based raw materials such as waste cooking oil and palm by-products. LG Chem supplied the first batch of bio-balanced PVCs to LX Hausys last month.
Last year, LG Chem entered a strategic partnership with Finland-based Neste to create the foundation to receive a stably supply of bio raw materials needed for manufacturing eco-friendly products, and based on this, it is putting the spurs in launching a total of 32 bio-balanced products that received ISCC Plus international certification such as SAP (Super Absorbent Polymer), PVC (polyvinyl chloride), etc., while pioneering the market.
LX Hausys CEO Kang Gye-woong stated, "Through this cooperation, it is expected that our two companies will further solidify our positions as Korea's top eco-friendly material company and eco-friendly construction/decoration materials and interior while helping to build a resource-circulating economic ecosystem through the mass production of recycled PVC and increased supply of bio-balanced PVC."
LG Chem Petrochemicals Company President KUG LAE, NOH stated, "Cooperation of the two companies is a practical course of action to expand eco-friendly technologies that can be applied in the value chain encompassing raw materials and final products to even resource circulation."
He further added, "By strengthening R&D in the eco-friendly materials and technology sectors, we will expand the sustainable business structure and product portfolio."