LG Chem Accelerates Global Clinical Progress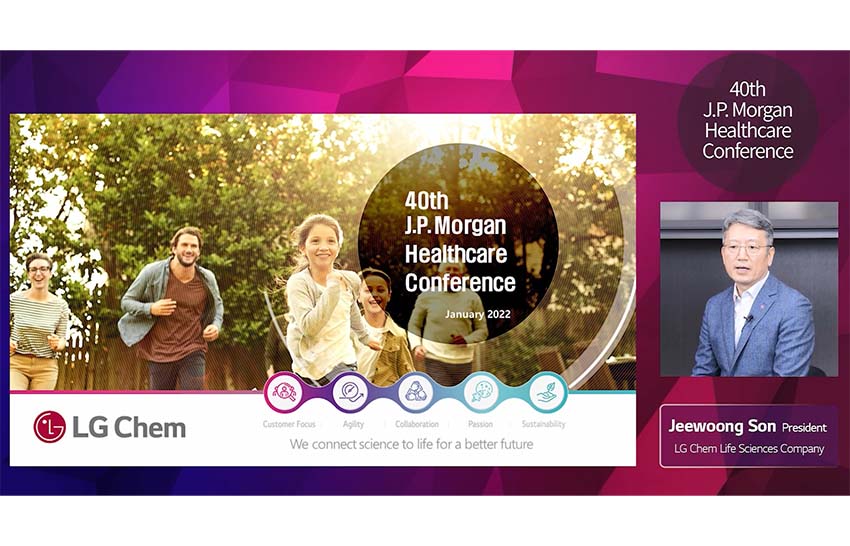 LG Chem Accelerates Global Clinical Progress
■ Expanded new drug pipelines in pre-clinical and clinical stages to 21
■ New drug for gout 'Tigulixostat' to enter final gateway to challenge the global market worth 5 trillion KRW
- Plans to enter phase 2 for new NASH drugs and to announce phase 1 results of new drug for obesity in the USA within the year
■ Strengthening anti-cancer sector through advanced construction of cell drug platform technologies such as CAR-T medicine
LG Chem will further accelerate its efforts for clinical development of global new drugs.
LG Chem participated in the 'JP Morgan Health Care Conference' held online on the 13th as a presenting company and announced that it disclosed the competitiveness and development strategies of its major pipelines in gout, anti-cancer drugs, etc.
Life Sciences Company President Jeewoong Son attended as a speaker and explained, "Since the launching of the Life Sciences Company, we have invested approximately 800 billion KRW in R&D over the past five years and vastly reinforced our new drug pipeline to procure future growth engines through omni-directional open innovation."
He added, "This year, we will fully accelerate progress in global clinical trials such as entering clinical phase 3 in the USA and China for 'Tigulixostat (generic name of LG Chem's new gout drug)' and there will be several R&D outcomes entering clinical stages."
LG Chem has currently constructed 21 pre-clinical and clinical stage new drug pipelines (8 in anti-cancer, 8 in metabolic diseases, 5 in immunological diseases).
The new drug pipeline 'Tigulixostat' has made the most progress so far and it is currently preparing for multinational clinical phase 3 trials. LG Chem is developing this drug with the goal of commercialization as a primary medicine to lower uric acid in gout patients.
Results of the clinical stage 2 trials in the US verified its possibility as a distinguished new drug by satisfying the stage 1 evaluation indicators that were raised to challenging levels compared with existing medicines or other gout treatment substances that are currently under development. LG Chem plans to apply for clinical phase 3 tests in the US and China within the year. The global gout drug market is expected to reach 5 trillion KRW by 2027.
LR20056 (protocol name) is a new NASH drug and it is currently in clinical phase 1 trials in the US. It is an orally administered drug that suppresses activity of VAP-1 proteins, which are known to be very closely associated with inflammations in the liver. The interim results of clinical phase 1 trials confirmed optimal pharmacokinetic results and drug fastness when taking one pill a day. LG Chem plans to complete phase 1 trials and apply for phase 2 trial plans in the US within the year.
LR19201, which is currently in clinical phase 1 trials in the US as a new drug for rare genetic obesity, is the world's first orally administered MC4R agonist and it is a drug involved with satiety signals to suppress appetites. It is being developed as a distinguished new drug for obesity based on the advantages of orally administered drugs and high target selectivity, and the clinical phase 1 trial results are scheduled to be announced within the year.
LG Chem is also concentrating its capacities on expanding anti-cancer pipelines and further advancing the construction of innovative cell drug platform technologies to become a global pharmaceutical company specialized in anti-cancer. LR19023, which is the next-generation CAR-T cell treatment, is currently in the pre-clinical stage and its effects on cancers in animal models are being verified; therefore, the Company plans to develop LR19023 as a solid cancer drug.
Furthermore, new drugs for multiple myeloma, NASH, diabetes, etc. are expected to enter clinical trial stages as well.
Life Sciences Company President Jeewoong Son stated, "In addition to building up our new drug portfolio, we will enhance our core capacities for global clinical development to procure global competitiveness."