LG Chem Accelerates Construction of Plastic Eco Platform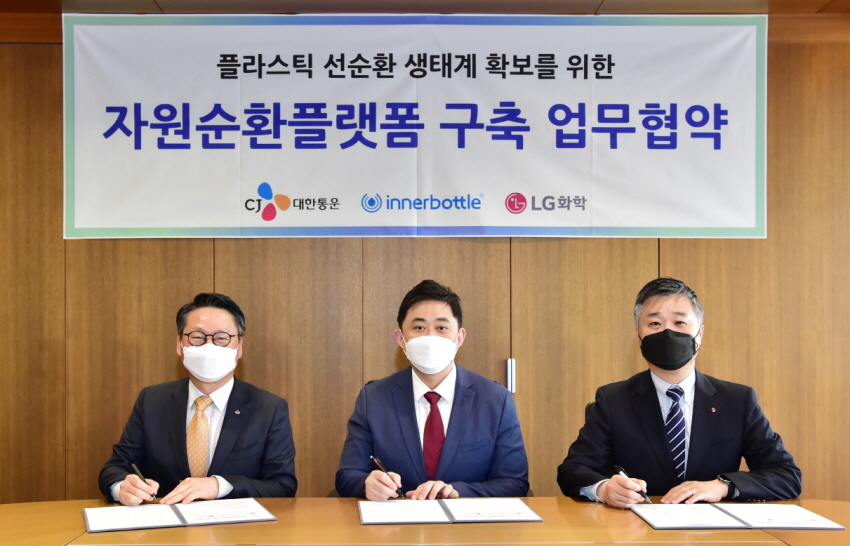 LG Chem Accelerates Construction of Plastic Eco Platform
■ On the 30th, entered MOU for constructing a resource cycle platform with Innerbottle and CJ Logistics
■ 100% virtuous cycle system for plastic resources of 'materials (LG Chem) → products (Innerbottle) → Collection (CJ Logistics) → recycle (LG Chem / Innerbottle)
□ Construction of an exclusive system for collecting Innerbottle containers made with LG Chem materials after use
■ When ordering cosmetic products from the Innerbottle online refill shop, CJ Logistics delivers and collects containers, and products that cannot be reused recycled by LG Chem

LG Chem will team up with Innerbottle and CJ Logistics to accelerate the construction of an eco-platform that will include plastic production, collection after use, and recycling.
LG Chem announced on the 30th at the Yeouido LG Twin Towers that it signed the '2022 Resource Cycle Platform Construction MOU' together with the innovative domestic startup Innerbottle and CJ Logistics. Department Leader of Sustainability1 Min-jong(Joseph) Lee from LG Chem, CEO Steve Seil Oh of Innerbottle, and Management Leader Heo Shin Yeol of CJ Logistics attended this event.
The structure of the eco platform being built by LG Chem goes in the order of 'materials (LG Chem) → products (Innerbottle) → collection (CJ Logistics) → recycling (LG Chem / Innerbottle).'
In this process, LG Chem provides plastic materials to Innerbottle that produces cosmetic product containers using such materials, and CJ Logistics collects the used Innerbottle containers, which LG Chem and Innerbottle once again recycles it into its original form.
As containers produced only with plastic materials of LG Chem are collected and recycled using a dedicated system, 100% of the plastic resources can be quickly and completely recycled.
When a consumer requests for product refills using Innerbottle's online cosmetic product refill shop 'Ireon,' available both on PC websites or mobile phone apps, and places the used product in front of their door, a delivery man from CJ Logistics will collect the product and deliver a newly charged refill product. Innerbottle cleans the collected product container for reuse. Containers collected but cannot be reused are purchased by LG Chem and are reborn as clean raw materials through its recycling process.

Other offline refill shops are inconvenient to use because consumers must physically bring the container to a refill hub, but Ireon has the advantage that it can be used online anywhere, anytime, and that products can be refilled and containers be collected with just a single click.
All products sold on Ireon are contained in an exclusive refill container that applies the Innerbottle solution. These are eco-friendly containers with a silicon pouch that can shrink like a balloon inside of an outer plastic bottle, and because the contents are filled only in the internal pouch, the outer plastic container can be reused after simple cleaning. In addition, as the outer containers are produced using materials made with commonly discarded plastics, it is expected to help reduce wastes and have carbon mitigation effects, etc.
A spokesperson from LG Chem stated, "We were able to complete a resource cycle ecosystem joined by conglomerates and startups based on the cooperation of CJ Logistics," while adding, "We plan to accelerate commercialization of eco-friendly products for reducing carbon emissions from petrochemicals business."
Meanwhile, LG Chem is conducting joint research to replace the silicon bottles of Innerbottle with NB latex produced by LG Chem. In addition, there are also plans to replace the outer containers of others' cosmetic products, which cannot be recycled, with eco-friendly plastics such as PCR (post-consumer recycled) ABS (acrylonitrile butadiene styrene), EP (engineering plastic), etc. produced by LG Chem.