LG Chem Obtains Korea's First TUV Rheinland Certification for Product Carbon Footprint Assessment Method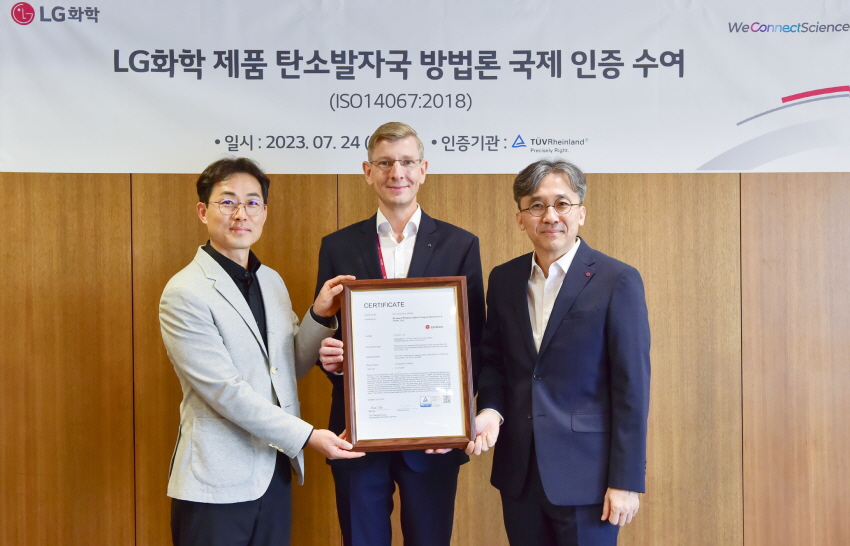 LG Chem Obtains Korea's First TUV Rheinland Certification for Product Carbon Footprint Assessment Method

-Certified LG Chem's self-developed Product Carbon Footprint assessment meth-od from TUV Rheinland, ensuring global reliability
-Plans to expand the scope of carbon measurement to cover all products manufac-tured at domestic and international facilities by 2025, actively targeting the eco-friendly market


SEOUL, July 25, 2023 – LG Chem has become the first in Korea to receive certification for its Product Carbon Footprint (PCF ) calculation method from the global testing organization TUV Rhein-land, further enhancing the competitive advantage of its low-carbon products for customers.
*Product Carbon Footprint (PCF): The value of carbon emissions generated in the entire process of product production, including raw material extraction, processing, transportation, and manufacturing, expressed in product units (1kg, 1m, 1EA, etc.).

On the 24th, LG Chem held a certification ceremony with TUV Rheinland at LG Twin Tower in Yeongdeungpo-gu, Seoul, for its Product Carbon Footprint assessment method.

LG Chem's product carbon footprint assessment method, which follows the international standard (ISO 14067:2018), is the first in Korea to receive certification from TUV Rheinland. The method in-cludes mandatory criteria specified in the international standard, such as data collection and calcula-tion methods, and impact assessment methods.

TUV Rheinland is a global testing organization that provides carbon footprint certifications by evaluat-ing greenhouse gas emissions generated throughout the entire lifecycle of a product, from its produc-tion and distribution to its usage and disposal, based on international standards.

Through this certification, LG Chem has secured the reliability of its Product Carbon Footprint as-sessment process, which includes advanced materials and petrochemical products, that it has been independently calculating since 2021.

In response to the growing demand for low-carbon products from global customers and pertinent cer-tification information, LG Chem plans to apply the certified PCF method to its internally developed product carbon footprint automation system called CAMP (Carbon footprint Analysis & Management Platform). This move aims to actively engage in capturing the low-carbon and eco-friendly product market.

LG Chem's CAMP minimizes human errors by selectively extracting necessary data from existing in-house systems such as ERP (Enterprise Resource Planning) without requiring additional input. Moreover, it efficiently assesses reliable Product Carbon Footprint within a short timeframe based on internationally certified methods, enabling proactive responses to the needs of global customers.

LG Chem plans to implement the Product Carbon Footprint system for products produced at all do-mestic and international sites by 2025 and continually enhance its capabilities.